After wear results are added to a belt section, users should note that the wear rates are only calculated at 15 minute intervals. This is because the calculations put a load on the database and if they were running continuously, the system would slow right down.
This is important to note because if wear results are entered and then the Wear Profile and Trend report is run inside the 15 minute window, the report will show the wear rates from the previous test.
To avoid this, be sure click on the Wear Rate Refresh button after entering wear results if you are going to generate a report straight away. If the wear rates haven't been calculated the summary will have no values as shown below.

You will see a confirmation message asking if you want to re-create the wear rates. Click Yes.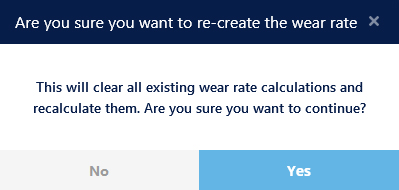 Once the refresh has been run, the summary column will show the current minimum wear measurements for each partition.

If the summary is blank after running the Refresh, try refreshing the page by clicking on the refresh arrow at the bottom of the page. If the values still don't appear, try running the Wear Rate Refresh again.