Where frames are used which have dual rows of Idlers on the one frame, typically in impact areas, these need to be configured to distinguish between the 2 rows. This allows the frame to still be entered as a single frame, which is imperative when creating structure failures for frame replacements for example.
Click on the hamburger menu and select gear icon for Idler to go into Administration . You can also access this screen by clicking on the three dots beside the location field on the Idler or Structure Edit screen.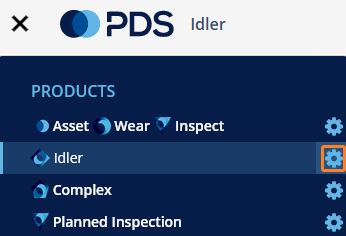 On the Idler Locations screen, select Create and add the relevant description e.g. "Impact 4 Row- Head Side". Add the business, then save. Repeat the step, this time labelling the location "Impact 4 Row- Tail Side".
This will now allow a distinction between the two sets within the one frame. When creating an Idler Failure, on the Location dropdown the options will appear to choose between Head & Tail side.