There is two methods for accessing reports in PDS.
Manual reports
Manual reports allow a user to enter report parameters to extend or limit the amount and type of data returned in the report. Manual reports are viewed and navigated in a web browser and can be printed and exported to various file formats, including PDF, Word, Excel and PowerPoint.
Click on the Hamburger

icon and select a product. Click on the Hamburger Close

icon at the top left or click off the navigation panel.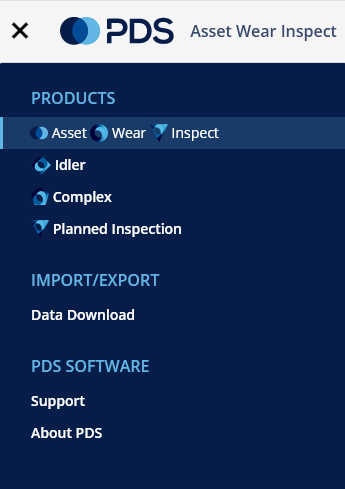 Click on the highlighted icon to show the available reports. Click on the relevant report to open it in a new browser tab.
Select a value for each report parameter, click on the View Report button to display the report.
Quick reports
Quick reports allow a user to generate and download the corresponding report in PDF format. Quick reports use default report parameters and filters data to the corresponding functional hierarchy.
On the toolbar, click on Quick Reports
icon and select the appropriate report. The report will either open in your default PDF viewer or the report will download to your downloads folder, depending on the browser you are using.