A new feature has been added to Idler that allows users to allocate idler faults to a particular shut. When there are a lot of faults of varying severity logged for a conveyor, it can be difficult to communicate what is to be changed to the work crew, especially if they are contractors just brought in for a shut. This feature is designed to simplify this process by allowing Power Users to assign faults to a specific shut, and then print out a report with just these faults. This new report also has an area for QC sign off of each fault so that change out can be confirmed.
Assigning Faults to a Shut
Power Users or Business Administrators will see the Shutdown Planner option now in Idler.

There are two options in the drop down menu: Add Shutdown & Remove Shutdown.
If you select Add Shutdown with no idler faults selected, you will be asked to confirm if you want to add all the faults on the dashboard to the (yet to be selected) shut. Care needs to be taken with this option, as if you are at a high level in the hierarchy, you will be able to add all faults for conveyors below that level. Take note of the number in brackets, as it tells you how many faults it applies to.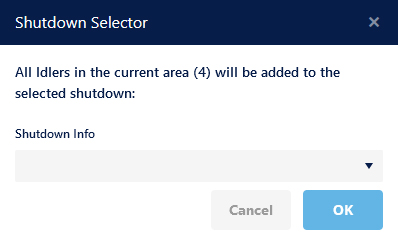 Likewise if you select Remove Shutdown with no idler faults selected, you will have the option to remove all idler faults from the nominated shutdown.
To assign faults at the area level, select the faults you want to add (to select, click on an empty area of the fault and to add multiple faults, hold down the shift key and click other records) to a shutdown. Once you have the faults selected, click on the Shutdown Planner as shown above. Assign a shut from the dropdown and click OK.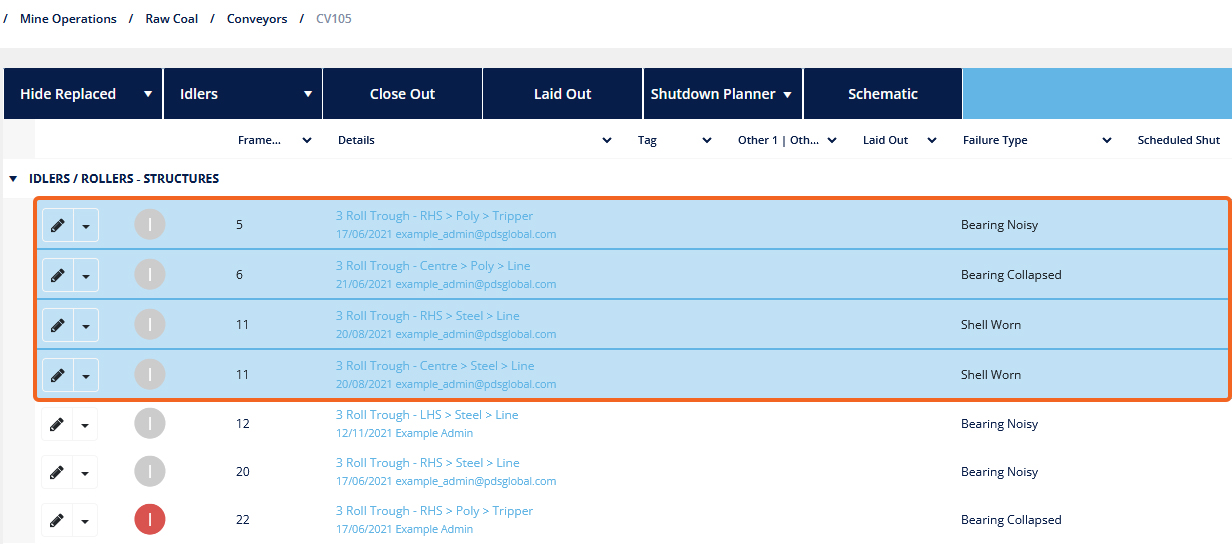 Remove Shutdown is similar, select the faults you want to remove, click on Shutdown Planner and select Remove Shutdown.
Viewing Faults Assigned to a Shut
Faults that are assigned to a shut are indicated on the dashboard in the Scheduled Shut column. Clicking on the column name will sort the faults together, ordered by shut name.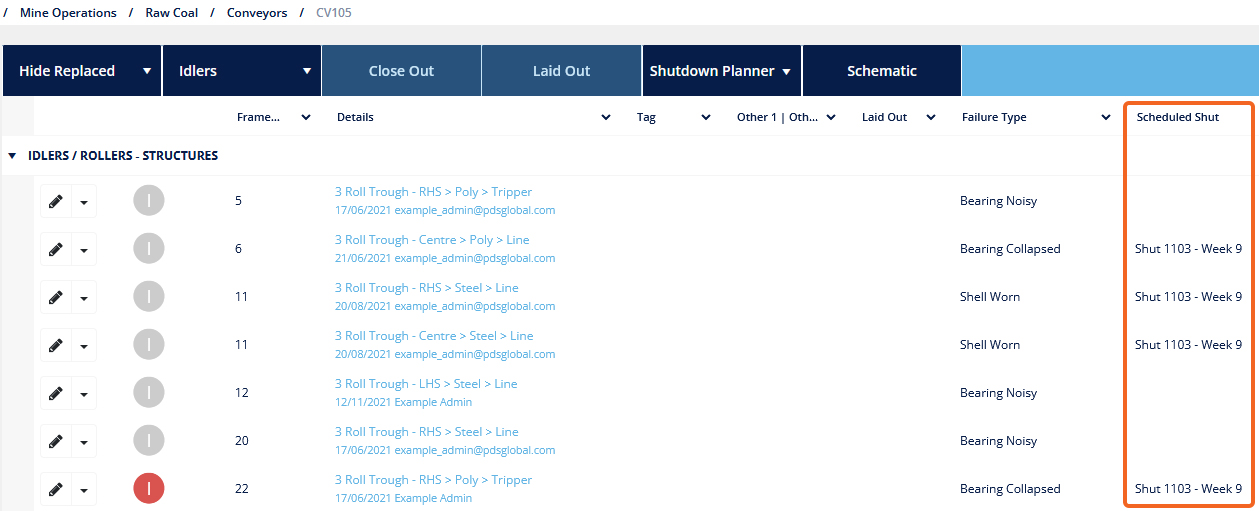 Adding a Conveyor Schematic
A schematic can be added of the conveyor, or a section of the conveyor, to help with the identification of frame locations or specific areas of the conveyor, and this schematic can be included on the report. Click on the Schematic button and then Add Attachment.
Shutdown & QA Report for Idlers (and Structures)
The reports are based on the current Work Management - Idlers & Structures Reports, but have some extra features.
The reports shows what shutdown the failures are allocated to (as selected in the report parameters).
A schematic can be added to the report to give crews important conveyor layout information.
Each failure can be marked as replaced, and signed off by the responsible person.
The conveyor can also be signed off as completed.